Shipbuilding company "CB Baltic" operates without its own production base, brings specialists to work in Lithuania from Ukraine and India, has orders for the year ahead and plans that in the year 2019 sales revenue will increase more than twice – to 2 million Eur.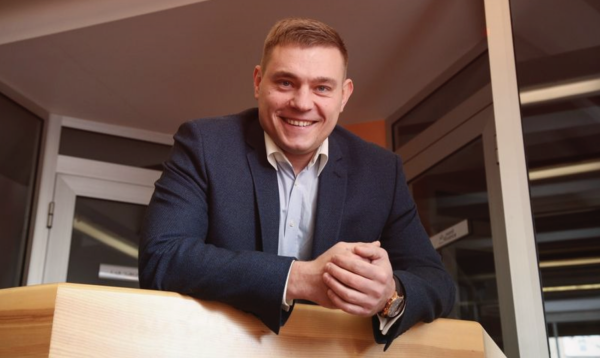 "We entered the market in an untraditional way – we did not invest in production workshops and equipment, but in people we send to work in other companies' ship repair bases in Lithuania," says Valerijus Bezborodyj, CEO of UAB "CB Baltic".
According to him, such business model was developed together with shareholders from Ukraine, who have many years of experience in the shipbuilding industry. In Lithuania, "CB Baltic" works as a subcontractor, and its biggest advantage is the competence of its employees.
Mr. Bezborodyj says that employees hired to work in Lithuania are well versed shipbuilding and repair specialists who are selected according to special programs. Most employees come to Lithuania from Ukraine.
The professions of welder, fitters of metal ship hulls in Lithuania are included on the shortage occupations list, therefore the procedures for hiring these specialists are relatively simple – foreigners do not need to obtain a work permit in Lithuania. According to the head of "CB Baltic", this allowed the company to enter the Lithuanian market by bringing a strong team of specialists.
"We select highly qualified specialists according to extremely strict criteria. Before hiring, our shareholders first test them in Ukraine – people are tested and certified according to international standards. Future employees are trained to work according to Bureau Veritas standards and arrive fully prepared for work, "says the company's manager.
Receiving enough orders, since the beginning of this year, "CB Baltic" has started hiring specialists from India as it is becoming increasingly difficult to find competent people in Ukraine – a large part of them are being lured by Poland, where the procedure for hiring foreigners is simpler than in Lithuania.
"We have lost many great people from Ukraine, whom we had already selected – while they were undergoing migration procedures, they were employed in Polish shipyards," says the head of the company.
In India, "CB Baltic" is currently working with partners who, applying the same procedures and tests as in Ukraine, select specialists not less competent than Ukrainians to work in Lithuania.
"We currently employ 16 specialists from India, and in December we are applying to bring another 20 people. We plan to end this year by employing almost 40 Indian workers, "says Mr. Bezborodyj.
The company estimates that according to the ongoing orders, will be necessary to have twice as many people to work in Lithuania next year – at the end of this year, 70–80 specialists will work for "CB Baltic" orders, and in the year of 2019 will be employed 150-200 people.
According to him, as provided by Lithuanian law, the company undertakes to pay foreigners higher than the minimum wage. In fact, the salary is much higher and depends on whether the employee meets the set standards.
"CB Baltic" employs only few specialists from Lithuania – a large part of them have gone abroad to work, therefore they are a shortage for both large and smaller shipyards in Klaipeda. On the other hand, not everyone is able to pass the tests, according to which the company selects the required employees, says the manager.
According to him, along with the volume of orders, the company's sales revenue is growing. In 2017 "CB Baltic'" turnover reached 147,000 Eur and this year it will be more than 5 times higher and will reach about 0.8 million Eur, as CEO calculates.
"In 2019 we plan our turnover up to 2 million. Eur sales revenue. Existing orders allow us to expect such results," forecasts Mr. Bezborodyj.
As a subcontractor, "CB Baltic" mainly works with its partner UAB Sidc LT in Klaipeda, which is engaged in ship repair and production of other products for the maritime industry.
"We receive a production order from partners, analyze how much time and at what price we could do it. We take full responsibility for building a certain part of the ship with our own capacity within the agreed time, " director explains. He emphasizes that such model is also acceptable for partners, because in Lithuania there is a lack of specialists, they can use the competencies of subcontractors and undertake to perform more or larger orders.
One of the latest projects on which "CB Baltic" has contributed as a subcontractor is the completed vessel, servicing salmon farms and oil rigs in Norway by Sidc LT. The ship will be launched this week and will travel to customers.
Mr. Bezborodyj states that investments in own production workshops and equipment for a young company would be too high, especially since there are suitable places for the production base only in Klaipeda port, and all of them are occupied.
"We started from a scratch, we did not invest in production capacity. Our model is to enter the market by offering high quality services. And it paid off, "he explains.
This business model also provides additional security – if demand and the volume of orders in the market were to decrease, companies would not put pressure on the costs of maintaining the production base.
"We follow tactics – we will earn a little less, but we will not be dependent on the waves of the economic cycle. If there was a crisis, we would simply reduce the number of people in work, but we would not have any additional costs, "he explains.